GVolcano
GVOLCANO
Wolom nuestro héroe, debido a un accidente con su nave, a encontrado en su planeta un agujero espacio tiempo, persiguiendo a un ser maligno llamado Mothimotrh, ello le ha ocasionado ir a parar en el agujero de un volcán, pasando a un espacio temporal que no es el suyo, con cantidad de peligros que debe de sortear, para ello Wolom debe de encontrar el método para poder volver, así como el agujero temporal que le permitirá volver con su familia a GalaxIII su planeta natal.
Al aterrizar en el interior de un volcán, deberá de encontrar 4 objetos que le permitirán salir de esa complicada situación, así como deberá de localizar la puerta de salida que le permitirá volver a su casa. Espero que puedas ayudarle.
GVolcano es un juego rápido, con varios ingredientes, en los que hay que estar atento y localizar objetos y buscar una salida para poder finalizar el juego, podrás desplazarte por el mapa en casi cualquier dirección, por pantallas llenas de colorido y magia.
Encontrarás varios tipos de impedimentos, así como algún objeto mágico, estos objetos mágicos podrán darte una vida, o quitártela.
Durante el recorrido de búsqueda, dispondrás de la opción de recolectar monedas, por cada 50 monedas te darán una vida extra, pero cuidado!!! no es oro todo lo que reluce, solo se te dará un máximo de 3 vidas extra, así que aprovéchalas bien y no las desperdicies.
Podemos jugar con el teclado, con las teclas:
O: Izquierda
P: Derecha
SPACE: Salto
Así como con joystick sinclair o kempston.
EL PANEL DE CONTROL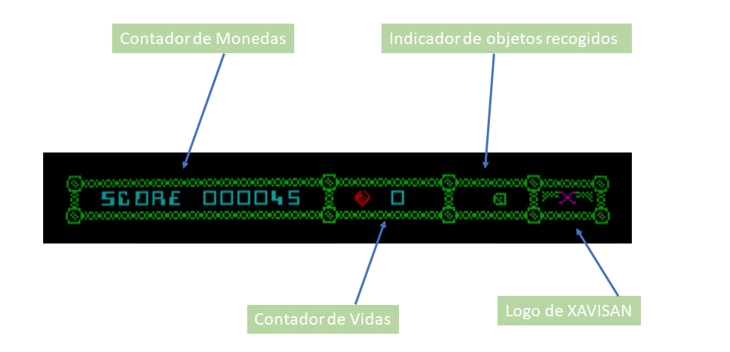 El panel de control dispone de varios apartados, uno de ellos es el contador de monedas, que irá indicando la cantidad de monedas recogidas además de servir de puntuación, ya que cada moneda tiene un valor de 1 punto. El contador de Vidas, está indicado por un corazón rojo, donde indica cuantas vidas disponemos en ese momento. El indicado de objetos recogidos, nos dibujará que objetos llevamos recogidos de los 4 que hay que localizar en el juego, una vez aparezcan los 4 objetos podremos buscar dónde dejarlos. Y el apartado de Logo, es el logo distintivo del juego, el desarrollador.
Fichero Versión ULA+ ->> GVolcano_Game_ULAPlus.tap

Requerimientos: Spectrum 128K
CREDITOS

CODIGO, GRAFICOS E IDEA ORIGINAL

Javier Sánchez <Xavisan>

MUSICA
KUVO [Modificada y adaptada por <Xavisan>]

BETA TESTER/TESTER
Oscar Llamas (Hicks)

HERRAMIENTAS USADAS:

MPAGD 7.10, MUSICIZER 2, MULTIPAINT y VORTEX TRACKER

Dedicado con mucho cariño a mi hijo Oriol.

ENGLISH
I'm sorry if there is any error in the translation.
ATTENTION THIS GAME IS ENTIRELY DEVELOPED IN SPANISH LANGUAGE, IT IS NOT TRANSLATED, BUT REALLY IS NOT NECESSARY TRANSLATED TO PLAY.
Wolom our hero, due to an accident with his ship, has found on his planet a space-time hole, chasing an evil being called Mothimotrh, this has caused him to end up in the hole of a volcano, passing into a temporary space that is not his own, with a number of dangers that he must overcome, For this Wolom must find the method to be able to get back, as well as the temporary hole that will allow him to get back with his family to GalaxIII his home planet.
When landing inside a volcano, you must find 4 objects that will allow you to get out of that complicated situation, as well as you must locate the exit door that will allow you to return home. I hope you can help him.
GVolcano is a fast game, with several ingredients, in which you have to be attentive and locate objects and look for a way out to end the game, you can move around the map in almost any direction, through screens full of color and magic.
You will find several types of impediments, as well as some magical object, these magical objects can give you a life, or take it away from you.
During the searching, you will have the option to collect coins, for every 50 coins they will give you an extra life, but beware!!! all that glitters is not gold, you will only be given a maximum of 3 extra lives, so take advantage of them well and do not waste them.
Your can play with the keyboard, with the keys:
O: Left
P: Right
SPACE: Jump
Sinclair or kempston joystick as well.

THE CONTROL PANEL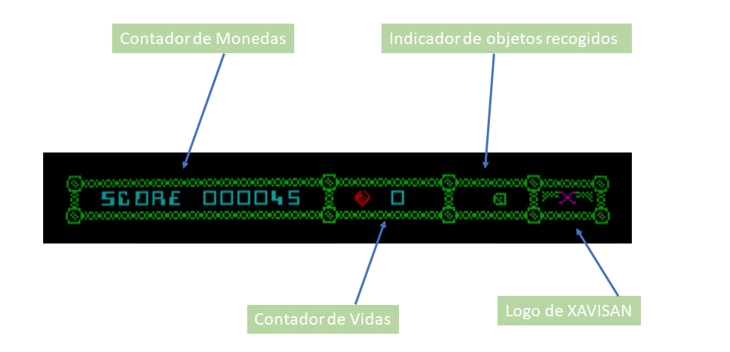 The control panel has several sections, one of them is the coin counter, which will indicate the amount of coins collected in addition to serving as a score, since each coin has a value of 1 point. The Lives counter is indicated by a red heart, where it indicates how many lives we have at that time.
The indicated of collected objects, will draw us which objects we have collected from the 4 that must be located in the game, once the 4 objects appear we can look for where to leave them. And the Logo section is the distinctive logo of the game, the developer.
ULA+ File name ->> GVolcano_Game_ULAPlus.tap
Requirements: Spectrum 128K
CREDITS
CODE, GRAPHICS AND ORIGINAL IDEA
Javier Sánchez <Xavisan>
MUSIC
KUVO [modified and adapted by <Xavisan>]
BETA TESTER/TESTER
Oscar Llamas (Hicks)
TOOLS USED:
MPAGD 7.10, MUSICIZER 2, MULTIPAINT y VORTEX TRACKER
DEDICATED TO MY SON ORIOL

and Thank you for Download this Game.
*ENG version is not available , the memory problems not permits modify the code to this game is very complicate to the available memory , sorry for this inconvenience. (Next game I'm developing will be in English I promise you.). Thank you!
Download
Click download now to get access to the following files:
GVolcano_Game_ULAPlus.tap
38 kB
GVolcano_Game_Map.pdf
1 MB
GVOLCANO_Documentacion.pdf
483 kB
Comments
Log in with itch.io to leave a comment.
Felicidades!! Y ánimo con los nuevos juegos que vengan :)
Enhorabuena por el juego !!!
Enhorabuena por tu nuevo juego. Saludos!!